Here, above, you see a photo of the inside of the Type 61. The transmission, engine and clutch are readily apparent. A unique feature of this version is it has an on board charger for the battery, a nifty feature.
The next few shots are of the Sankyo Type 74 in 1:10 scale.
Shown for comparison are a 1:35 U.S. Halftrack and 1:25 Tamiya Panther A ( one of my first running Models!)
here you may see my type 74 in a later more highly modified state. All hatches function, new sprockets as well as an infra red projector attached to the mantlet as per the prototype which in this case houses a small video camera.
This model has been modified substantially from original. Modifications; external are new sprocket external halves; roadwheel lugnut details; 'hubcaps', turret and driver's hatches made to function; turret racks and optical equipment. Internal mods are; OS Surpass .48; CD ignition; self starter; temperature gauge; functional exhaust stack ( left side). This model uses 50/50 glow fuel gasoline with Redline and is very reliable on this fuel. This a great model for a beginner as it works really well right out of the box, may be converted to electric power easily if desired ( recommended actually), and as a 1/10 model it provides sufficient canvas to go wild with 'super detailing' if one wishes.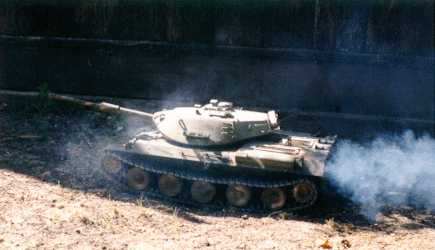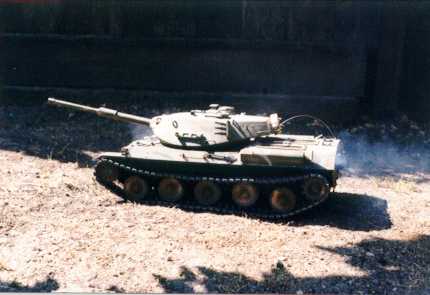 1:10 Japanese Type 74 making a run in open country in the desert lands (backyard!).

Return to Photo Selection Page
Return to Main Page